Welcome to the School City of Hammond
Department of Food & Nutrition Site!



For the most up to date information please visit our Department Facebook Page
___________________________________________________


Information on Pandemic-EBT (P-EBT) can be found HERE
___________________________________________________


Click on the image to get a PDF printable version of the January meal service calendar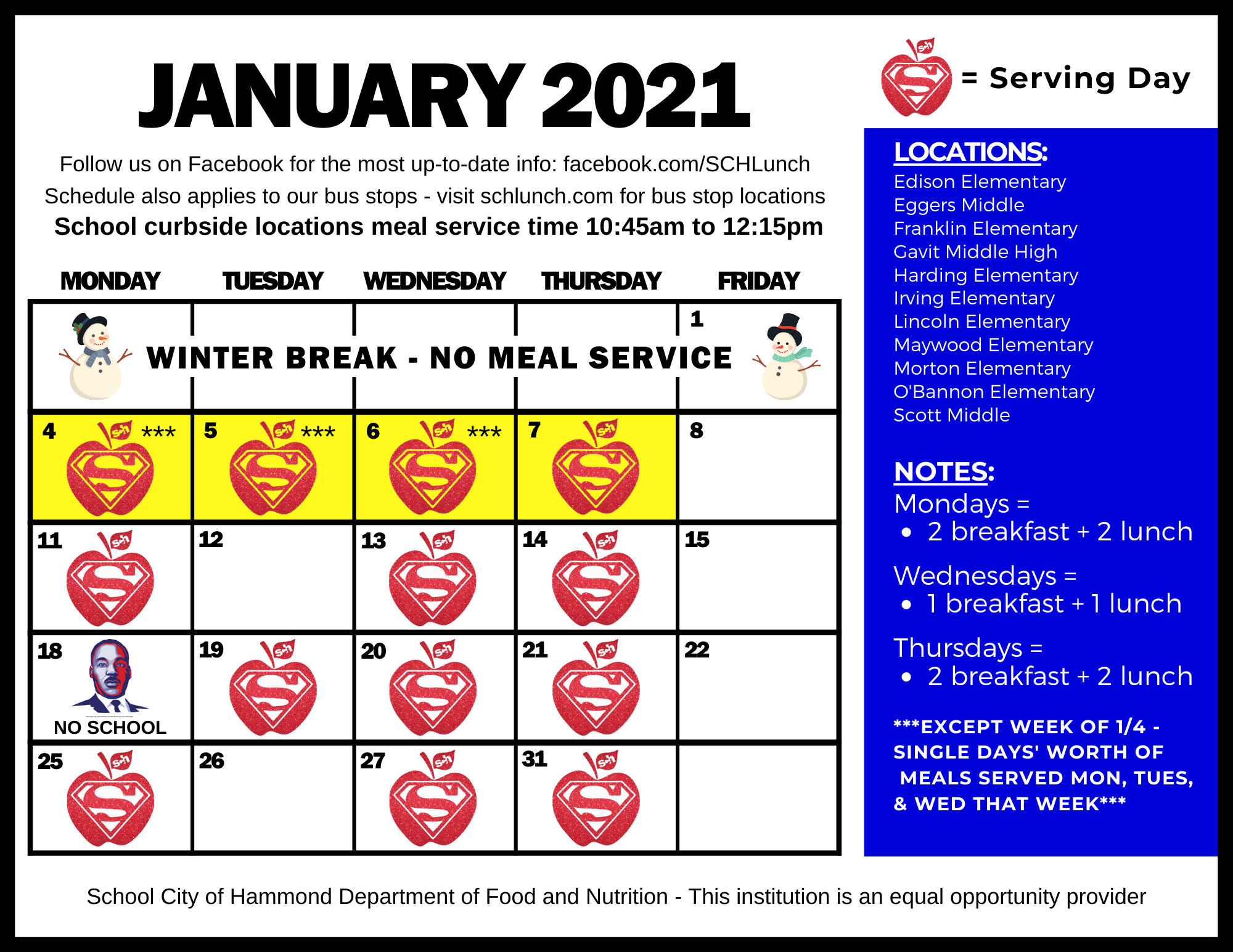 Check out our custom Google map showing all our bus and school building site meal locations and times! CLICK HERE to go to open the Google map in its own screen with more details.
Spring 2021 Curbside Menus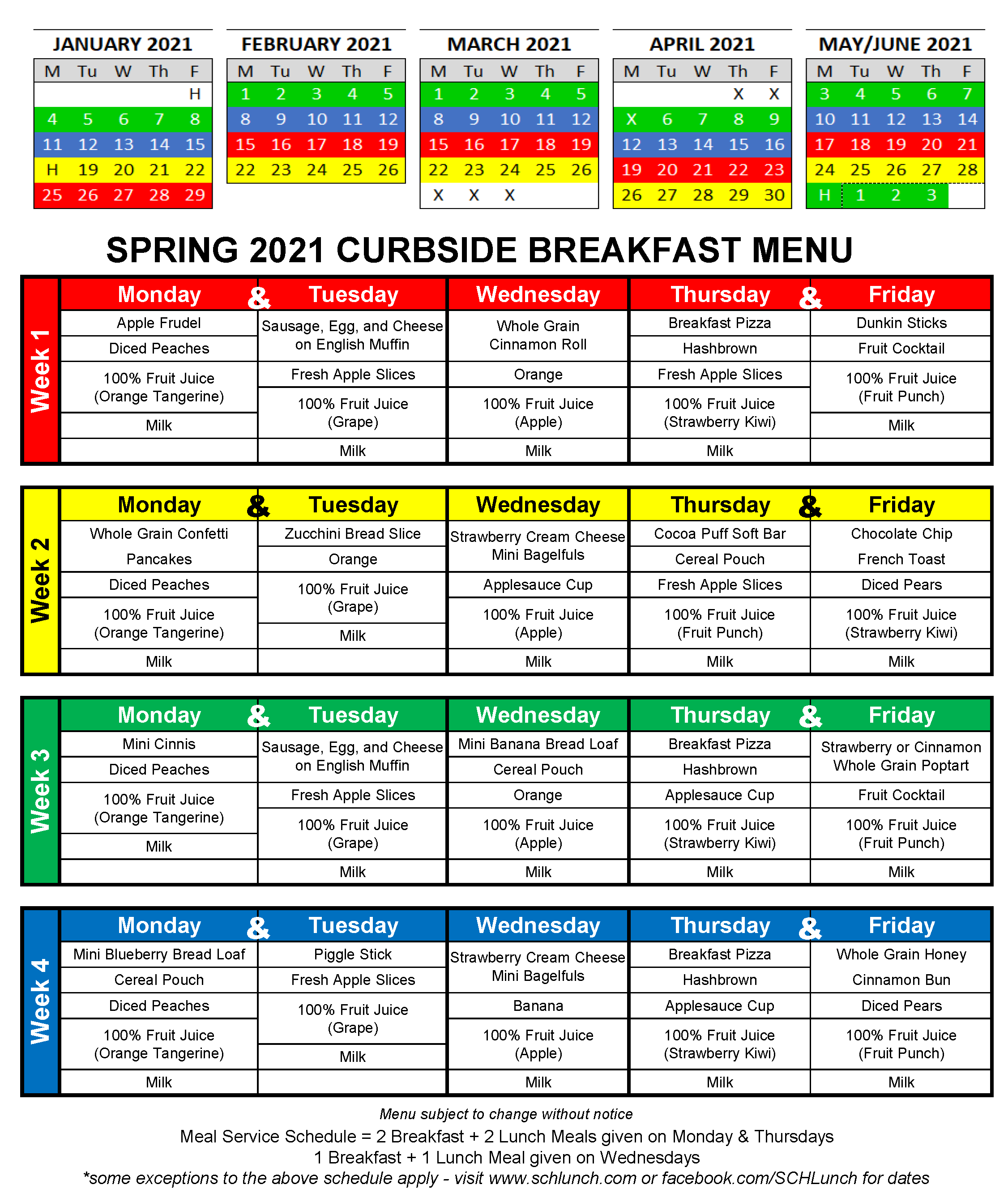 For a downloadable PDF of the menu above please click here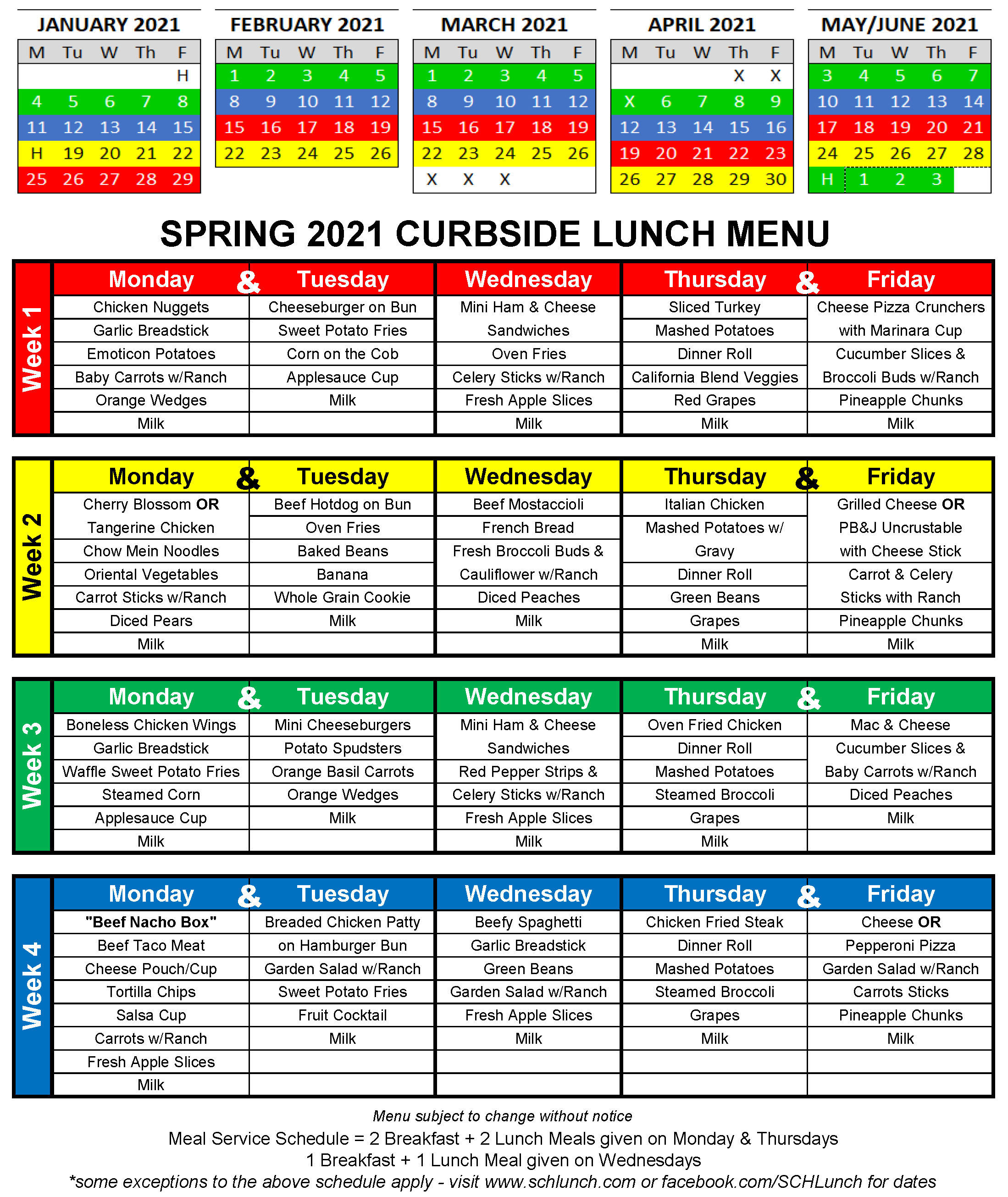 For a downloadable PDF of the menu above please click here
Our Current Meal Service Plan:
We have meal service 3 days each school week - Mondays, Wednesdays, and Thursdays

Mondays - 2 breakfast + 2 lunch meals are handed out for each child

Wednesdays - 1 breakfast + 1 lunch meal per child

Thursdays - 2 breakfast + 2 lunch meals per child



Students attending Safe Zone Schools will receive breakfast & lunch at the building


We have 11 SCH schools open for curbside to-go meal service from 10:45am to 12:15pm. Those schools are Edison, Eggers, Franklin, Gavit, Harding, Irving, Lincoln, Maywood, Morton Elementary, O'Bannon, and Scott Middle School



We will ALSO have buses running routes out in the community from 10:45am - 12:15pm (think of them like food trucks making stops to pass out breakfast & lunch meal bags) so that if it is too hard to get to a school - we can come closer to you!
Mission Statement:
The School City of Hammond Department of Food and Nutrition provides excellent quality meals, prepared and served in a safe, sanity, and pleasant environment, while reinforcing healthy eating patterns for students, staff, and their families.


About Us:
Our menus are nutritionally analyzed with a software program called Titan to ensure nutritional integrity as well as full compliance with USDA regulations.


We are "self-funded" as we generate our own income from USDA meal reimbursement, and pay our own operational expenses, with no reliance on local taxpayers or the school district's general fund.



Our school kitchens are inspected twice each year by the Lake County Health Department. We proudly say that a perfect score is our norm.